There is a new guide on Denver Treatment Providers in Denver Colorado.  This guide talks about some of the benefits of getting treatment and places that you can go to receive treatment if you are facing a Drug Case in Denver.  The guide has sections for people suffering from Alcoholism, Drug Addiction, Mental health, and for Youth.
The take-away from the guide is that people who receive treatment are in a far better position to move forward with their lives than someone who does not.  For instance, a person leaving prison is going to end up back in prison over 70% of the time.  On the other hand, a person who receives treatment ends up back in the criminal justice system approximately 34% of the time.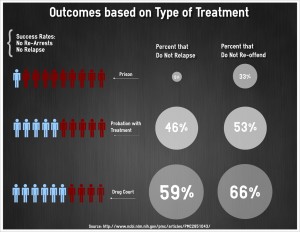 The differences are incredible and the Colorado Legislature has taken notice.  The focus from the legislature's perspective has become evidence based and has now shifted from punishing addicts to treating addicts.  The end result is that the courts are very willing to try to help individuals who are facing Drug Crimes because it is ultimately better for society, better for the individual, and creates a more efficient and cost-effect judicial system.
If you believe you need help dealing with an addiction, you should download the guide and talk to one of the mental health providers in it.  Additionally, you should take the time to talk to a Denver Felony Attorney who handles drug cases to determine if your case can be resolved through getting you help.  It is well worth your time and could save you from the agony of a life spent in the criminal justice system.
The information in this post is for informational purposes only and should not be construed as legal advice or as the creation of an attorney-client relationship. For legal advice, please contact an Attorney.