Mountain Legal has just released an informative guide to bail bonds in Denver to help people get out of Denver County Jail more quickly and efficiently.  
The guide is available here:
The guide covers common questions about bonding a person out of jail.  The guide also includes a useful list of bail bondsmen in the Denver Colorado metro area.
Here is a useful infographic from the guide on the arrest process and how to get out of jail: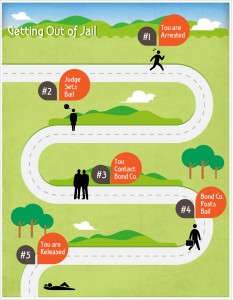 There is an accompanying article on posting bonds and bond reductions in Denver available on this website.
We hope you find the guide informative and useful.  Let us know if you have any questions about it or suggestions about how to make it better.
After you are released from custody, it is of the utmost importance to find a Denver Criminal Defense Attorney as quickly as possible to help you work through your case.
Best of luck in your criminal case!
The information in this post is for informational purposes only and should not be construed as legal advice or as the creation of an attorney-client relationship. For legal advice, please contact an Attorney.