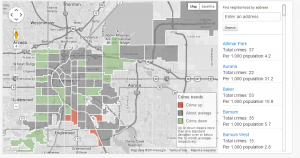 The Denver Post recently introduced an interactive crime map of the City. The map allows you to zoom into specific portions of the city to see statistics on crimes in those areas. The map shows crime trends and color codes the crime locations by Violent Crime, Property Crime, and Other Crime.
 Potential Uses for the Crime Map
I love when these types of features are given to the public. This information increases transparency in a way that is easy to understand. Additionally, the uses for this type of data are tremendous. For example, a nonprofit could use it to determine which areas of the city it should target to be of the most use. Or, a police department might use this information to increase foot patrols in certain areas. On the other hand, a person who is buying a house or opening a business may take an interest in this information before investing.
Alternatively, this information might be used by an enterprising app such as Trapster to show people where people are getting pulled over and where arrests are being made. This app was very successful at helping people evade police after nights of drinking or what have you. As a result, police departments were furious with the app and requested that Trapster shut down a good number of its services. Because the Denver Post's map is updated multiple times in a week from actual data, rather than user data (which Trapster relied on), it is actually more accurate and more relevant to a person seeking such information. Though it does not provide real-time data, it shows trends, which ultimately provide people with probabilities that people can use to make decisions.
Great Features of the Crime Map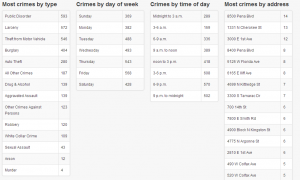 One of the better features of the map is actually found in the tables just below the map where it shows crimes by time of day, day of week, by type of crime, and by address. This information provides a great deal of perspective on the what is happening in the neighborhood and when it is happening.
There is potentially another cool feature at the top of the map where crime trends are shown over the course of a month. The only downside to this feature is that it limits the amount of viewable data to 1 month. Unfortunately, when we are talking about neighborhood crime trends, it is highly unlikely that a trend would develop over a month's time. Hopefully this feature will be expanded to show data over the course of years so that true trends can emerge.
Potential Features
The data is from the Denver Police Department's Reporting as included in the National Incident Based Reporting System (NIBRS). Because the online map is ultimately relying on a National Database, hopefully the Denver Post will extend the map's services across the State so that information about crimes can be more accessible for individual's regardless of where they live.
Conclusions
This map is quite good and definitely worth using. It provides a wealth of information in a readily accessible and understandable way. I hope the Denver Post does a separate post about the web-traffic for the map, which would be equally interesting. For instance, is the map going to receive a surge of traffic on Friday night or a steady stream of traffic between 8-5? For good or for bad, the map will have its uses and will help people accomplish an end.
The information in this post is for informational purposes only and should not be construed as legal advice or as the creation of an attorney-client relationship. For legal advice, please contact an Attorney.