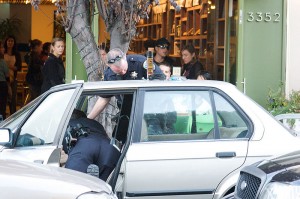 Police officers often use pretextual stops to search a car for drugs, weapons, or other signs of illegal activity in violation of the 4th Amendment of the Constitution.  Sometimes these searches are legal and sometimes they are illegal.  In this article, we will describe some of the important differences between legal and illegal searches so you can get a better idea of whether you have been illegally searched.  As always, if you have questions, you always need to talk to a Colorado Criminal Lawyer to help you fight your case.
Before we get started, it is important to know what a pretextual stop is.  Pretextual stops are traffic stops where the officer pulls someone over under the guise of a traffic stop when in reality, the officer just wants to stop you so that he can search your car.
Often, the officer will follow a vehicle and wait for the inevitable traffic violation.  In Colorado, as soon as a traffic violation has occurred, the officer has the right to pull you over for the stop.  Then, once you are stopped the search of your vehicle can begin.
In 2009, the U.S. Supreme Court, in a case called Arizona v. Gant, decided that vehicle searches conducted after a person has been arrested are unconstitutional unless the police officer had probable cause to arrest you for a crime and the reason for the search is to collect evidence relating to the crime that you were arrested for.  As an example, let's suppose you were arrested for driving while your license was revoked (DOR).  Since you were arrested for this traffic charge, the officer would not have the right to search your car for drugs because there is no relationship between drugs and driving while your license is revoked.  Arizona v. Gant is an important case because it makes it clear that officers cannot just randomly start searching your vehicle after you are in custody and if they do so, they have violated your 4th Amendment right to be free from unlawful searches.  Prior to this case, police officers could legally search your vehicle for "officer safety" even after you were put in handcuffs and the back of the police vehicle.
The bottom line is this:  If the officer does not have a valid reason to search the car, the police officer needed to get a warrant before he can search the vehicle.
The Exception to the General Rule
There are two exceptions to the general rule of when an officer can search you:
Inventory Searches
Officer Safety
Inventory Searches
Let's start with Inventory Searches.  An inventory search is a search to determine the contents of your vehicle prior to the vehicle being towed.  This is a search done to "inventory" the documents within the car so that there is a valid record of the things that were in the car when the police took possession of the vehicle.  The goal behind an inventory search is to make sure you get your property back when you get your car back.  In practice though, the police use the phrase "inventory search" rather loosely so that they can get into your car and look for illegal items.  You should note that an inventory search is legal regardless of whether you are in custody or not.
Searches for Officer Safety
Searches for officer safety must occur before you are put into custody.  So these searches will most likely have to take place immediately after you are taken out of the car (often one officer will take you out of the car, while another officer will check the area for weapons).  The purpose behind an officer safety search is to make sure that there is not a weapon in the immediate vicinity that could be used to harm the police officer.  These types of searches are only legal if conducted before you are put into custody and are limited to the immediate area around you.
Conclusions:
If you were subject to a search, you need to find out if it can be challenged in court.  Often, police officers conduct searches that may look like a valid search but in reality are illegal.  Being able to determine which kind of search you have been subject to is crucial in getting the best results in court.  If you keep in mind the types of searches discussed above, you should be better prepared to talk to a Colorado Criminal Defense Attorney to determine the best strategy for your case.
The information in this post is for informational purposes only and should not be construed as legal advice or as the creation of an attorney-client relationship. For legal advice, please contact an Attorney.