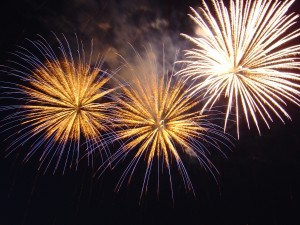 With the holiday coming, expect an upswing in crime. 
The 4th of July seems to be the perfect storm of excess drinking, loud noises, and super vigilant police. So let's look at this supposed upswing of crime in more detail.
More Crime?
Not really.  Though people say that there is more crime, what is actually going on is that people are having more fun.  Our society has a unique way of associating fun with crime.  So if you drink too much, expect to be arrested for something, somewhere.  Whether it's a DUI or Drug charge, the police will find a reason to arrest you. Our politicians are very quick to turn a normal fun party into a life sentence so be on the lookout.
If you get in a car, you should expect to get a DUI in Colorado and have your car towed, regardless of whether you were drinking because cops can smell the alcohol on you and your red eyes from the barbeque are a dead giveaway that you've been drinking, plus they know you cannot pass the field sobriety test that they will be grading.  So be ready for a wonderful evening in detox, courtesy of our overly vigilant police.
More Police?
Well, there are always more police.  Our country is in a frenzy to criminalize everything and as long as our politicians and media keep telling us that we need to live in fear of those "criminals" mentioned above, the police will get more and more power.  It also does not help that police are viewed as people who stop crime.  The truth is that the more police you have on the streets, the more people you have trying to dig up crime.  So instead of having police arresting people for real crimes, you have police officers wandering around trying to decide if someone's music is too loud and ultimately arresting the person for loud music so the officer can say he did his job.  Also, the more arrests that occur, the more the public thinks that crime is an issue.  So, what do we do?  We hire more officers who then make even worse arrest decisions and who bump up the crime stats even further.
Bottom line?
Expect to get arrested this holiday, or at least ticketed regardless of how innocent your activities are on the 4th.  The police are on the prowl and they will try to make your life difficult for no apparent reason.  When they do, give a Mountain Legal Colorado Criminal Lawyer a call so we can push back.
The information in this post is for informational purposes only and should not be construed as legal advice or as the creation of an attorney-client relationship. For legal advice, please contact an Attorney.