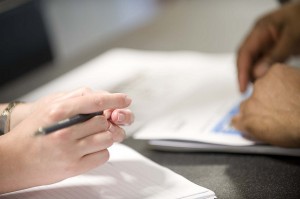 Preparing to Meet Your Attorney
When you are looking for an attorney, there are certain things that you should prepare yourself to talk about in order to fully inform the attorney about your situation.  These things will enable the attorney to give you accurate information about your case.  Additionally, the way that the attorney interprets these things and provides advice, will give you insight into whether the attorney is the right one for you.  So when you prepare for your meeting, you should think about the following things and be prepared to talk about them:
Facts about the Incident: Make sure that you can relate the details of the incident including what happened, when it happened, who was present, and everything that the police have done to you.
Arrest Details: Be prepared to talk about how you were arrested, what the police told you, where the police took you, whether you were questioned, whether anyone else was arrested, and what happened after you were arrested.
Whether you were Searched: If you were searched, be sure to note the places that were searched and why the police decided to conduct the search.  You should also think about any witnesses who saw the search and whether anyone gave consent for the search.
Whether the Police Questioned You: If the police questioned you, you should note when, where, and what happened during the interrogation.
Where it Happened: Think about where the incident occurred and whether there may be any evidence at the scene that is important to your case.
Witnesses: Make sure you think of everyone who was present or who was familiar with the people who were present.
Evidence: You should note any evidence that may be important to your case.  For example, if you have text messages, or facebook posts, be sure to preserve this evidence.
Photographs: If you have any injuries or any important evidence, be sure to photograph this evidence.
Your Personal Information: Be prepared to talk about your criminal history, your work history, your medical history, and any other things that will help your lawyer better understand who you are.
Budget: You should think about what you can afford.  If the price that the attorney quotes is more than you can pay, let the attorney know and try to work out an amount that fits within your budget.
If you have these things in mind, your meeting will go smoothly and you should get excellent advice about your case.  Additionally, you will have insight into the way the attorney thinks and whether his way of thinking about your case is similar to the way you want your case handled.
In addition to excellent information about your case, you may be wondering about specific traits that are signs of a good attorney.  Here is information about traits to look for in an attorney.
The information in this post is for informational purposes only and should not be construed as legal advice or as the creation of an attorney-client relationship. For legal advice, please contact an Attorney.