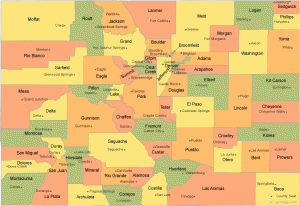 In a criminal case, some of the biggest factors in your case will include your judge, your jury, and the familiarity that your community has with your type of case. In this series, a Mountain Legal Colorado Criminal Lawyer discusses some of the main factors that can influence your case and provides accurate statistics about your community. After looking at these statistics, you can get a better gauge on how your case is going to be judged by your community and how you should prepare your case.
In this series, we will discuss your county's racial background, their educational background, how often people in the county see your type of crime, and how your judge generally rules on cases. These types of factors heavily influence your case and can help you determine whether you should consider a plea offer or whether you should take your case to trial.
Additionally, the statistical factors of your community help you decide how you can prepare your case for trial. By knowing what your jury will expect, you can prepare your arguments to meet their expectations or to show why you are different than their expectations.
In a criminal trial, knowledge is key. If you and your Colorado Criminal Lawyer have more knowledge than the other side, you put yourself into a better position to win your case. This series provides you with the insights necessary to help put you in a better position. After reading these statistics, you should discuss them with your Colorado Criminal Attorney as well as any other factors that you may be relevant in your particular case. With this knowledge, you will be able to craft a strategy with your attorney for your case.
The information in this post is for informational purposes only and should not be construed as legal advice or as the creation of an attorney-client relationship. For legal advice, please contact an Attorney.