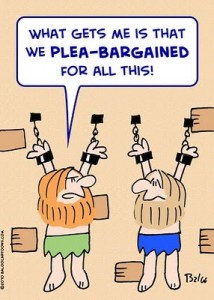 There are numerous benefits to taking a plea in Colorado but it is important to know all of the consequences of a plea before you take it.  Most criminal cases are resolved through the plea bargaining process.  As a result, it is essential that you know all of the details involved in the process and how the plea will affect you over the long-term.
In today's society, convictions follow you well after you plea guilty.  A conviction can make it difficult for you to find a job, can end your financial aid if you are a student, can result in you losing your job, can end your social security benefits, can end your veterans benefits, can cost you Constitutional rights, and, if you are not a citizen, can result in deportation.
It is important to know the consequences of pleaing guilty well before you decide to take a plea.  Without the knowledge of what you are actually pleaing to, you may subject yourself to more than you originally realized.
This series goes into the details of the plea bargain process and what you are binding yourself to.
The information in this post is for informational purposes only and should not be construed as legal advice or as the creation of an attorney-client relationship. For legal advice, please contact an Attorney.