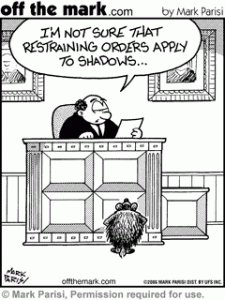 I recently came across a case in Denver where a girlfriend routinely took out restraining orders on her boyfriends. Every time she would get a new boyfriend, she would walk over to the court and get a new restraining order. Then the second she got upset with the boyfriend, she would pull out the phone and call the police. Her boyfriend would get thrown in jail, and then he would have to pay lawyer's fees, possibly lose his job, and feel the lifelong humiliation of going through the criminal process. The poor victimized girlfriend would be consoled by the prosecutor, judge, and jury, then move onto the next boyfriend.
After a number of "rounds" this girlfriend finally met her match. A crafty defense attorney took the time to investigate the girl and located all of her past boyfriends. He saw that all of them had been hit with restraining order violations and that they had all been brought by the girlfriend. He took this information to court with a line of angry boyfriends past.
The State, of course, had no idea what was going on. They called the girlfriend as their first witness and she told her sad story of how she had been in an abusive relationship. Then one after one, each boyfriend came into the court. The jig was up. They all testified about how she had gotten restraining orders on them. Then she was recalled to rebut the boyfriend's claims. On rebuttal, she told the judge and jury, "I get them so they will do what I want." And that was that. Case dismissed.
So what's the lesson? A well done investigation is a beautiful thing.
The information in this post is for informational purposes only and should not be construed as legal advice or as the creation of an attorney-client relationship. For legal advice, please contact an Attorney.